Ayodhya
: A 40 feet long veena was installed at Swarkokila Lata Mangeshkar Chowk under construction at Naya Ghat Chowk on Sharyu Bank of Ayodhya on Wednesday. It is an image of Veena weighing about 14 tons. A crane had to be used to carry the Veena to the platform here. Now this square has become the center of attraction in Ayodhya.
A budget of Rs 7.9 crore has been announced for this ambitious project of Uttar Pradesh Chief Minister Yogi Adityanath. According to Ayodhya Municipal Corporation Mayor Rishikesh Upadhyay, the construction of Swarkokila Lata Mangeshkar Chowk to be built at Naya Ghat will be completed by Lata Mangeshkar's birth anniversary.

Read this- As Ashok Saraf behaved at that time… A visit Ravi Jadhav can never forget
A big veena is being erected here. This veena is made by Padma Shri award winning sculptor Ram Sutar who commented that it took 2 months to make this veena. It has beautiful carvings, a picture of Goddess Saraswati is also engraved on it. He said that this veena will convey the melodious singing of Lata Mangeshkar.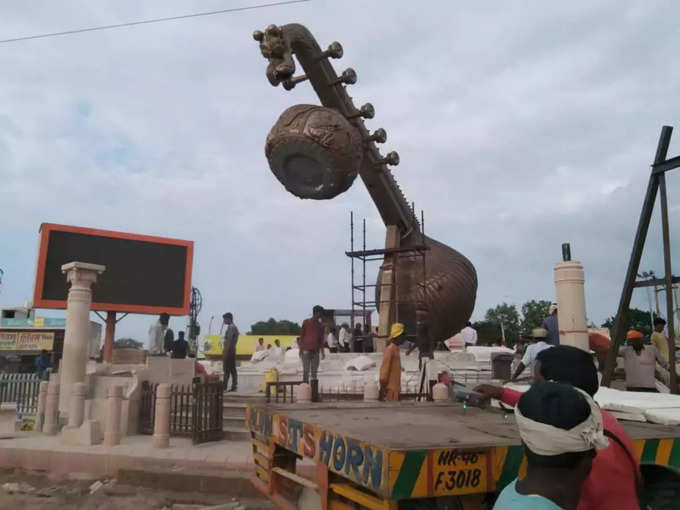 After the death of Gankokila Lata Mangeshkar, Uttar Pradesh Chief Minister Yogi Adityanath had announced to name this main square in Ayodhya after Lata Mangeshkar. According to this, the Ayodhya Municipal Corporation has named this square.
Read this- The success of 'Majhi Tushi Reshimgath' has not changed a bit in 17 years, see this photo
Bharat Ratna Lata Mangeshkar passed away on February 06, 2022, at the age of 92. Latadidi passed away while undergoing treatment at Breach Candy Hospital. His death caused mourning in the entire art world. With his passing, there is still an unfilled void in the art world. September 28 is Latadidi's first birth anniversary after her death.
.